On February 7 at the Residence of France in Madrid, the Trophées des Français d'Europe were held.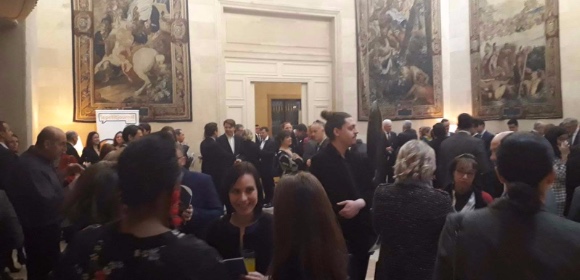 Every year, the jury of the Thophée des Français d'Europe recognizes the work of French citizens who excel in different social or professional areas in different countries.
It does so through a prestigious awards ceremony organized by Le Petit Journal. Thus, in December 2018 was held in the wonderful city of Singapore to reward outstanding French in Asia while in next March Paris will be the city chosen to celebrate the awards ceremony, this time, on a global scale.
The first edition of 2019 took place on February 7th in the halls and gardens of the Residence of France in Madrid. During the ceremony, which was attended by a total of 150 guests, our
Bachelor in International Hotel Management
program students were able to put into practice all their skills and knowledge of the sector.
The students, as real professionals, welcomed the guests and diligently served the delicious snacks and drinks. They carried out the different activities involved in a position like this with total success and were able to put into practice all the theory acquired during their training at
Vatel
.
It is a real source of pride to see that both the educational program and the methods we use in our training give such positive results. In addition, see the enthusiasm with which students have made each of the tasks fills us with confidence and motivates us to remain
the best Hotel School
.
From here we want to, once again, thank to Le Petit Journal for allowing us to participate in such an exciting event and, above all, for recognizing the quality of work carried out by our students.